Go paperless. Go efficient. Go with visa Payroll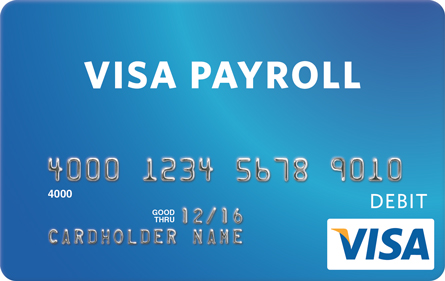 Visa Payroll is an innovative payment solution to help businesses reduce payroll costs, increase efficiency, and build employee loyalty. The ideal alternative to paper payroll checks, it's a reloadable prepaid card that can be used to pay both W2 and 1099 workers. Each pay period, the employee's pay is instantly loaded into the card account. Employees can then use their cards everywhere Visa debit cards are accepted.
Free eLearning Course:
PAYROLL'S IMPORTANT ROLE FOR A COMPLIANT PAYCARD PROGRAM:
*
How to successfully ensure employee choice and informed consent
(1 RCH eligible)
Interactive and scenario-based learning makes information easy to understand and apply in your workplace
Upon successful completion of the 60-minute course you will earn 1 Recertification Credit Hour (RCH)
Register for course.
* This educational presentation has been prepared and is being presented by Visa. It is not a product of the American Payroll Association or any of its subsidiaries. Statements made by the presenters are the responsibility of the presenters and do not necessarily represent the opinions, positions, or endorsement of the APA, their officers, members, or staff.
Employer's Guide to Payroll Cards (PDF)
How a well-designed payroll card program can benefit both the company and its employees. Download PDF>>
Employee's Guide to Payroll Cards (PDF)
How payroll cards can be used to your best advantage while avoiding potential costs. Download PDF>>
Paper Checks vs. Payroll Cards
By the numbers infographic
Download PDF>>
Visa Payroll Product Profile (PDF)
A cost-effective and flexible alternative to paychecks.
Download PDF>>
Why Choose a Visa Payroll Card Program?
Visa is a global market leader in Prepaid and offers in-depth payroll card program experience.

Best Practices for launching, managing and optimizing your payroll card program.
Consultative support on roll-out strategy.
Turn-key communication materials for rapid deployment.
Visa has deep knowledge of the "unbanked" and "underbanked" consumer.

Extensive research on the financial needs of the unbanked and underbanked consumer.
Product features and tools to best service this consumer.
Marketing Best Practives for effectively communicating payroll card benefits to these employees.
Increase employee satisfaction and loyalty
Your employees get fast, convenient access to their wages every payday.

Eliminates the hassles of check cashing and check cashing fees.
Provides secure and reliable pay every payday, even during emergencies that impact delivery of paper paychecks.
Your employees enjoy the conveniences of electronic payments through the largest retail payments network in the world.

Make purchases anywhere Visa is accepted without having to carry cash.
Access their pay 24/7 at over 2.4 million ATMs worldwide.*
Shop or pay bills online, by mail or by phone.
Employees can take their card with them to receive additional or subsequent pay from other employers, as well as receive government payments such as tax refunds, child support, unemployment or disability insurance, etc.
* As of June 30, 2015. As reported by client financial institutions and therefore may be subject to change; includes ATMs in the Visa Europe territory.